Welcome To Stage Five Of Hypnotic Language Mastery.

The American Alliance of Hypnotists Presents:
Get Certified As A Conversational Hypnosis Practitioner
A Premier Online Certification Course That Qualifies You To Practice And Teach Advanced Conversational Hypnosis
Author, educator and "hypnotist" to the stars, Dr. Steve G. Jones, will teach you the enlightening and transformative techniques that enable you to

control

the every thought, every move, and every decision others make…
Discover the shocking secrets that hold the key to the "how and why" of human nature's decision making process, and unlock the door to the definitive persuasive technique that will make you an in demand hypnosis educator…
Learn an advanced, education-centered approach to conversational hypnosis, presented by an experienced educator in a program designed to give you the tools and techniques needed to teach conversational hypnosis in any professional setting…
Land your dream job, advance your career, close more sales, or negotiate effectively AND

take advantage of your opportunity to TEACH these mind-blowing secret techniques to others as an instructor…
The American Alliance of Hypnotists is proud to sponsor this fully certified online course in conversational hypnosis presented by Dr. Steve G. Jones
Demand for Certified Conversational Hypnotists has never been higher across almost every industry—from therapeutic settings to high pressure sales environments, this complete course will give you the certification you need to apply conversational hypnosis techniques and teach others to do the same.
Certification from the Global Sciences Foundation is recognized worldwide and when you register for the complete online course today, you'll receive lifetime support from Dr. Steve G. Jones and his team.
Use This 100% Online Self-Paced Conversational Hypnosis Certification To Bolster Your Career Or Business And Master The Fine Arts Of Sales, Negotiation, Debate Or Influence.
Location: 100% Online And Self-Guided
Dates: Starting At Your Convenience
Cost: $997  INTRODUCTORY PRICE: $397 (Available Only To The First 27 Enrolled)
Registration Deadline: None
Cancellation Policy: Cancel Within 60 Days For A Full Refund
Instructor: Dr. Steve G. Jones, Ed.D, Clinical Hypnotherapist, Neuro-Linguistic Programming Master Trainer,  ALA Board Of Directors Member, American Board of Hypnotherapy Member, National Guild of Hypnotists Member, Professional Practitioner, Educator, Author, And Founder of the American Alliance of Hypnotists
Required Texts (Provided): 6 Workbook Study Manual Series by Dr. Steve G. Jones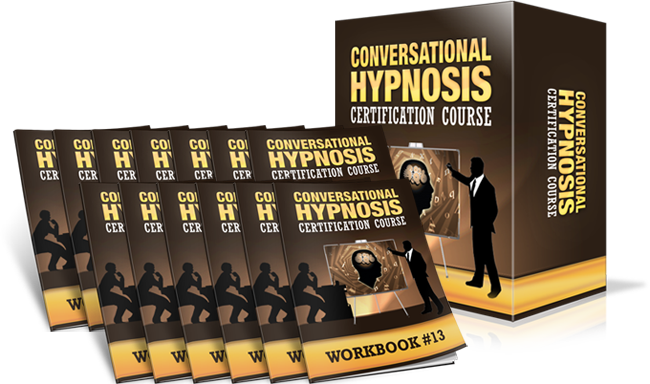 Conversational Hypnosis Puts You In Control Of Action. When Applied As Directed In This Advanced Course, You Decide And You Dictate The Decisions Of Your Subjects
This two purpose certification program is ideal for completely inexperienced or advanced hypnotists and well-suited to the career goals of the practiced salesperson, clever communicator, already effective manager, or the dare-to-dream decision makers who are ready to discover the impact your words and actions can have if you take the opportunity to pinpoint target conversation subjects with queues that lead to in-trance hypnosis.
Take the time right now to consider the power that you'll hold once you're able to direct, dictate and decide not just the course of conversation but the outcomes and actions that become the result of those conversations.
Imagine the power you will hold as what some call a "manipulator" and what you'll understand is simply a mastery of verbal and non-verbal communication and the easily applied knowledge of trance-state decision making foundations that are the building blocks of human nature and the bedrock of the actions you need others to take to put more than just food on your table.
Learn To Teach Others The Valuable Techniques Of Conversational Hypnosis And Build A Career Consulting Those Who Need Your Help The Most
(Or Simply Reach Instructor-Level Proficiency In Influence And Directed Decision Making)
Take three weeks to complete this course and discover how to legally leave people thanking you for influencing their decisions, controlling their thoughts, and directing their actions using nothing more than the changes you'll make to way you speak and interact with those around you…
When you take action right now you will take control over other people and learn why the old saying "It's not what you know, it's who you know" is only half of the puzzle (FACT: knowing the right people is USELESSunless they are under your "spell"), and the PROVEN TECHNIQUES you can use o get "who you know" to do what you NEED them to do…
Ask yourself if there is any reason NOT to learn the actionable steps that the most influential, persuasive, and powerful people in the world use every day attract attention, assert control and create a confidence that inspires others to act and react in positive, purposeful, and (most importantly) intentional ways…
Or simply take advantage of this opportunity to learn (risk free) how to turn the materials into this course into an inherent ability to naturally turn the conversations you have every day into a stream of profitable personal, social, and financial windfalls…
During The First Phase Of This Self-Guided Certification Process, You'll Learn…
The 10 Dos and Don'ts of conversational hypnosis including the specific warning signs that can turn a productive conversation into a persuasive nightmare that is nearly impossible to back out of unless you have this advice…
How to take the clinical Language of Influence outside of a therapeutic environment and harness the power professional hypnotherapists use in office settings to powerfully persuade and psychologically reprogram patients…
Techniques you can use to tap into the brain's natural state of heightened awareness and focus with strategies that prepare people to attentively listen, engage emotionally, and physically react to your words…
What to look for, where to start, and how to borrow and adapt the clinical trance sign stages of hypnotic induction so that you can effectively determine if any audience is engaged with your conversation, pitch or presentation…
You Will be Guided Toward the Discovery Of…
Why the Four Avenues of Influence represent a crossroads to productive conversation and influence that can lead to successful persuasion or hypnotic dead ends and how you can follow each avenue to determine the best course of action…
Each of the 3 rules that guide negotiation and how you can follow these three rules to achieve an outcome that is beneficial to you and appears mutually beneficial to the subject or subjects you apply conversional hypnosis to…
The single most important psychological "currency" of influence and why this one immaterial concept is THE SECRET behind the careers of history's most notable statesmen, the world's most successful salesman, and your future as a conversational hypnotist…
Dozens of direct and indirect examples of effective communication, conversation, and negotiation useful for establishing trust, inducing a desirable hypnotic state, and influencing the actions and thoughts you seek from your subjects…
Throughout Your Certification Course, You'll Engage and Understand…
Why trust between you and you subject is not enough and the truth behind the importance of the credibility you can establish through language (you'll discover how to SELL your expertise to your audience and create ACTION)…
Over six techniques you can use to establish and build your credibility, even in situations where you have no expertise or experience to rely on, so that you can engage subjects in a way that allows them to develop a deeper communicative bond with you…
The reason humans can't resist imagination, how you can tap into your subject's imagination, and why this is one of the most logical pathways you can use to gain trust, build confidence, and establish beliefs…
Six essential vocal quality adjustments and 14 total body language queues that subconsciously influence your subject and help or hinder your ability to establish and maintain a state of conversational hypnosis…
Instructional, Guided, And Carefully Planned Exercises In This Course Shows You…
Why trust between you and you subject is not enough and the truth behind the importance of the credibility you can establish through language (you'll discover how to SELL your expertise to your audience and create ACTION)…
Over six techniques you can use to establish and build your credibility, even in situations where you have no expertise or experience to rely on, so that you can engage subjects in a way that allows them to develop a deeper communicative bond with you…
Over two dozen can't miss conversational examples that you can learn from, follow, and put into practice immediately to convert a complete stranger into your most adherent follower or to turn the switch to building instant rapport…
Keys to rejection avoidance and the one technique your tool belt of conversational queues, questions, and responses has been missing for most of your life (the MAJORITY of our students have been influenced by this resistance eliminating strategy but NEVER EVEN NOTICED)…
This Conversational Hypnosis Practicum Is Essential For Developing…
Your complete control over the four framing methods your audience uses to develop ideas, make decisions and take action. After mastering these framing techniques, you'll enjoy complete control over any subject…
Reframing and objection answering techniques that you'll be able to naturally weave into conversations in a way that will leave your audience thanking you for thinking the way you've actually convinced them to think…
Mind modification patterns essential for creating complete thought and action turnarounds – through real-world examples you'll work toward understanding how to create natural changes in a subject's thought while in trace state…
An understanding of applying in-trance hypnotic influence in an actionable, and most importantly, natural way that your subjects will not even recognize. This is one of the final steps in becoming a certified conversational hypnotist…
And After All 13 Workbooks Of Self-Directed Study, You'll Be Ready To…
Tackle the toughest conversational opponents, including those who challenge you head-on, using practical approaches and one demonstrated strategy that will apply the techniques you've learned and the tools you discovered to always come out ahead…
Completely disarm negative mentalities using a little-known and rarely practiced technique that is the CORE of advanced conversational hypnosis…
Fully understand the two behavioral types and 7 personality categories that will often be the turning point in your conversational success. Every day, hundreds of successful in-trance hypnosis sessions hinge on these personality trait techniques…
Wrap up your training with the complete guide to influence, cementing your new skills, techniques, and strategies into full examples that will guide you as a professional, certified conversational hypnotist!
This (Normally) $997 Per Credit Hour Live Course Is Online For The Very First Time Bringing Ivy League Style Education To Your Living Room With Professional, Credentialed Certification At A Fraction Of The Cost.
Dr. Steve G. Jones normally charges Ivy League prices for live workshops, weeks long seminars and complete classroom training sessions in Conversational Hypnosis.
Under most circumstances, achieving your professional certification to just practiceConversational Hypnosis in a way that impacts your ability to live, influence and earn can cost as much as $997 per credit hour! You do the math—with an average completion time of 3 to 4 weeks, it can cost quite a bit to complete your certification in a live environment.
For the very first time, the American Alliance of Hypnotists is proud to sponsor this 100% online and self-paced professional certification course so that you can not only practice conversational hypnosis but also professionally teach conversational hypnosis as a certified educator.
This is the first time in his over 20 years of experience as a certified clinical hypnotist and educator, that Dr. Steve G. Jones has been able to bring his complete Conversational Hypnosis certification course to you online, at a price that is a fraction of the cost of in-person programs that still dominate the fields of psychology, hypnosis, and neuro-linguistics.